Starry Night - The Painting by Van Gogh
"Starry Night" is one of the most well known images in modern culture as well as being one of the most replicated sought after prints. Images of this painting have helped market a mass of products. So how has that imaged influenced us. It is interesting to ask almost any adult or child to identify the image. Usually they know the title, but not always the artist who made it famous. Many of Van Gogh's paintings can be instantly identified through the strong color and brush strokes.
Take for instance an exhibit some time ago that I coordinated called "Replica." Artist choose a painting created in past history to replicate in some way, but not totally duplicate. It needed to be their painting but still recognizable. I myself choose to replicate was "Starry Night." I painted half the painting as day time and half as night time. I am looking for that image in my stash of floppy discs to upload. (Hope I find it before I finish this entry.) Another aspect of the exhibit was that the public voted on their favorites in all categories of medium. The exhibition was truly amazing and successful.

One of my creative endeavors is my handcrafted soap company, Coastal Cottage Soaps. This is a cottage industry whereby I sell soaps and toiletries from my website, at farmers markets and various locations in and around Delaware. I started this venture over 5 years ago and have literally made a ton of olive oil based natural soaps. By following my tried and true recipes I can be creative by mixing various essential oils, botanicals and color oxides.
I felt I needed to be more creative to keep it fun and to add challenge to the effort. So I started a line of soaps that would have a designer look and have great fragrance. I embedded my own soap pieces of various shapes and colors into soap logs and bars of glycerin based soap. This method lends itself to creating themed soap for children, holidays and events.
I decided to take another step in the process that would benefit the arts. If I could build ships, flowers, and seaglass inside a bar of soap I could create a famous painting. So I sat forth to create a few different soaps that would focus on famous artists and their paintings. I always love telling the story and or history behind my products. That is the story behind my Starry Night Artsy Soap. I have swirls of yellow and gold, moon and stars floating in an iridescent soap base that varies from dark to light blue sky. I embellish the soap bar package with an image of the famous painting by the same name. The underside of the tag gives the history of the famous painting. My first famous art soap is the image above, Starry Night Artsy Soap.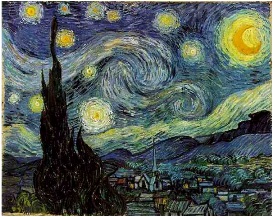 "Starry Night" by
Vincent Van Gogh


Below are the 2 stanza's from the lyrics to Don McLean's hit song Vincent (Starry,
Starry Night).
Starry, starry night.
Paint your palette blue and grey,
Look out on a summer's day,
With eyes that know the darkness in my soul.
Shadows on the hills,
Sketch the trees and the daffodils,
Catch the breeze and the winter chills,
In colors on the snowy linen land.
For they could not love you,
But still your love was true.
And when no hope was left in sight
On that starry, starry night,
You took your life, as lovers often do.
But I could have told you, Vincent,
This world was never meant for one
As beautiful as you.
Van Gogh's artistic legacy is contained within his paintings, drawings and writings. They are everlasting and will never "forget" the style that created them. They are Van Gogh's eyes that watch the world.
I hope you enjoyed the story behind my "Starry Night Artsy Soap.
"